Thank you for your interest in SDG4! Leaders around the globe acknowledge the significance and value of Quality Education. Business efforts on SDG4 are essential for preparing children and youth – the pipeline for your future workforce. Additionally, since Quality Education supports, enables, and influences all the other SDGs, adopting this particular Goal in your firm is important.  Our team believes that every company should have a strategic focus on SDG4.
This Goal has 10 Targets and initially appears to have a dozen Target Indicators to measure progress.  However, using business practices, SDG4 actually has nearly 30 Target Indicators considering various alpha and numeric sub-indicators.  As a common business practice, a key performance indicator (KPI) should be specific and measure only one parameter.  Looking at the SDG4 Target Indicators can be confusing for a company, so we are doing the work to show you how to move to KPIs.
Five of the indicators are relevant to businesses pretty much as-is, about three-quarters need minor modifications, and one is irrelevant to the private sector.  Relevant business indicators for SDG4 are imperative since education is a key condition to achieving all the other SDGs. Because of this, in every Target Chapter of our Guidebook, we will be presenting KPIs for business to impact SDG4.
Were you surprised to learn that so few of the SDG4 indicators are useful for business right out of the box?  Given that the United Nations indicators are articulated at a national level, we see this incompatibility across all the SDGs.  In 2015, the SDGs were ratified without any Target Indicators.  It is hard to imagine launching a strategic initiative without planning to measure progress! In 2017, the Target Indicators were added; and they are periodically reviewed and updated.  But they are not written for businesses.
UN Indicators can be modified for business by using the SMART framework, resulting in KPIs that are Specific, Measurable, Achievable, Relevant, and Time-bound.  This is a widely-used technique, with around 70% of large private sector organizations creating SMART KPIs (Ishak, 2019).  An evolution of SMART is SMARTIE, with the addition of Inclusion and Equity. For SDG4, the SMARTIE Framework is especially useful.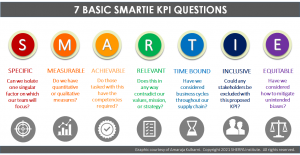 You will want to create KPIs for your community and your business opportunities. Once you've chosen the SDG4 Targets you wish to impact and the opportunities your team will pursue, you can develop your own strategically aligned KPIs.  This strategic activity should include diverse stakeholders from all functional areas and levels of the organization.
As an example, consider a customer service call center organization, which handles customer contacts through a variety of channels.  Their business objective may be to increase their net promoter score (NPS) by two points for the fiscal year. The development of KPIs to improve its NPS should go beyond senior executives, gathering input from other departments, IT, and customer service agents.
The call center's KPIs should be both leading and lagging, which serve different purposes.  Lagging indicators measure performance after activities have occurred; for example, last week's NPS results.  There is nothing that can be done at this point to change those survey outcomes.  However, it may influence reactionary short-term plans. In response to the poor NPS performance, supervisors could examine the staffing schedule and make modifications to decrease customer wait times.
While lagging indicators allow us to react, it is also important to have leading indicators. These measure the potential barriers to success, or the conditions to put in place to achieve business objectives. For the call center, general leading indicators can be related to Shrinkage*, the percentage of staff answering capacity lost to off-the-phone activities such as absenteeism, lunch, holidays, vacations, breaks, non-call related activities, and meetings.
Scheduled time away from workstations impacts the capacity to answer calls, which might seem negative. However, Shrinkage guides the staffing level needed to handle predicted workload demand for any given time interval. Staff away from workstations could be for training which should reduce customer satisfaction risks and help with NPS. So, you see KPIs are not simple. We will explore a training example in our next Insights Article where we will take a UN indicator that we have modified for business, using the SMARTIE approach, with both leading and lagging KPIs.
If you have any questions or thoughts on SDG4 and indicators, we invite you to share below.  Has your business produced unique KPIs for SDG4?  We'd love to hear from you!  Thank you again for your interest and time today.
*Special thanks to SDG4 Co-Author Emily Crawford, who has developed custom degree programs in the customer service call center industry for major corporations.  Visit her at https://sherpainstitute.org/author/emilyc/
Copyright 2021 SHERPA Institute.  All rights reserved – please cite and link to this web page.